MAKING BUYING A HOME EASY AND TRANSPARENT.
Buying a home through the auction process, let alone buying a home period, may scare you a bit. At Harcourts Auctions, we are committed to providing you with as much information as possible to ensure you are comfortable every step of the way. 
Firstly, visit the home and decide that it's for you. All documentation will be provided for those that wish to register there interest, and buyers can also make a "buy it now" offer to stop the auction. 
If you want to register to bid at auction, familiarize yourself with the Terms and Conditions of sale before you bid. Terms and Conditions vary slightly for each property, and can be negotiated prior to auction with the seller.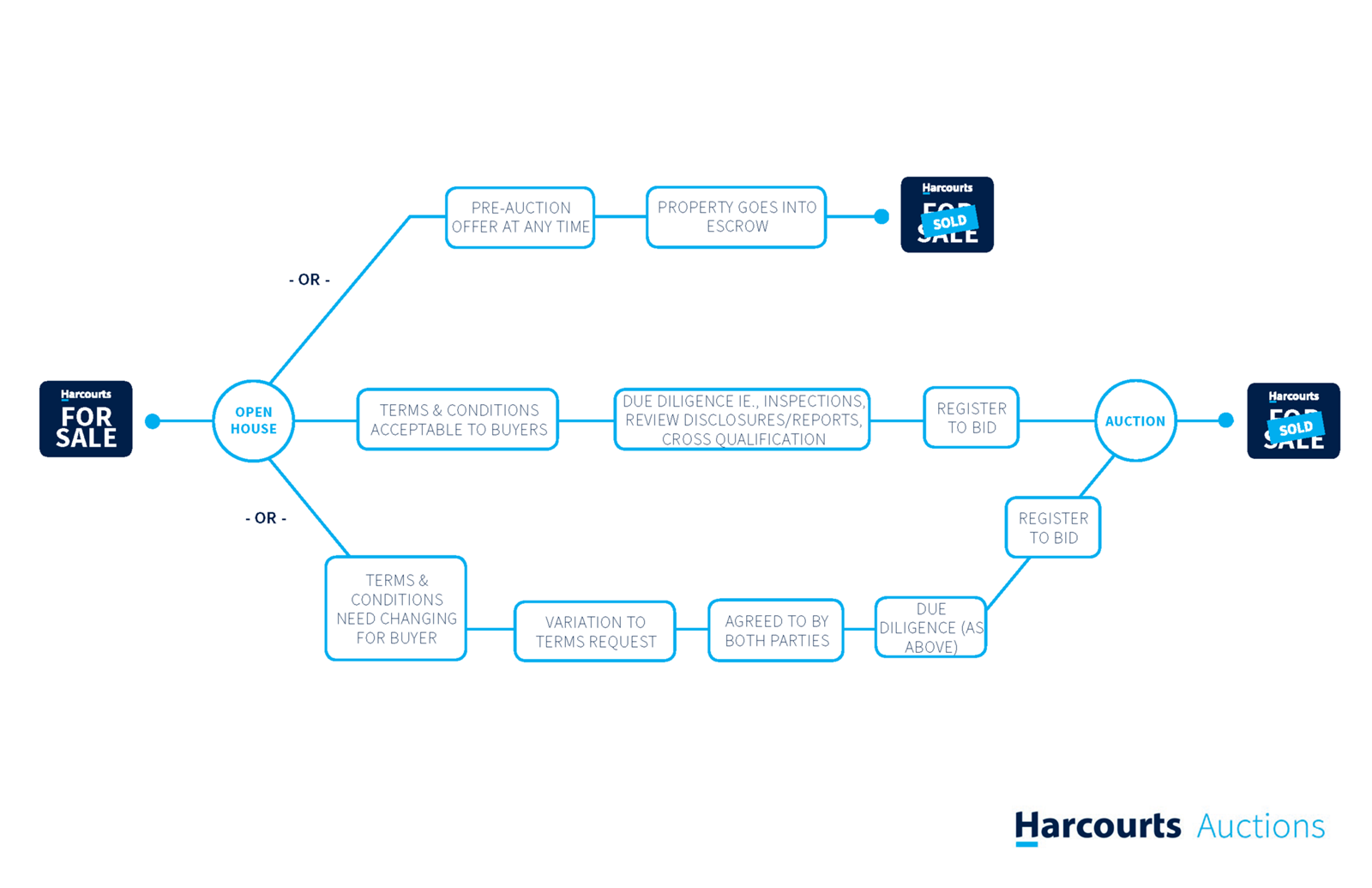 HOW TO BID AUCTION DAY
You or your agent representative can bid online on our Harcourts Auctions iOS/Android App, online on your internet browser, or over the phone with an in-room representative.  The auction is live and streamed in real time, called by our chief auctioneer, and viewable online or on the app. 
Once you have submitted a bidding registration, you will also create a profile on the App or online bidding platform, and then we enabled to bid once the auction goes live at 12:00pm on auction day. 
When you're ready to make a bid, you simply swipe the slider or click the "bid" button at the pre-selected increment, or enter your own. The auctioneer can reject any bid or suggest another amount. Don't be disheartened by this. The auctioneer is present to facilitate the sale of the property. It is their responsibility to maintain structure and momentum and achieve the best outcome.
Here is the link to a video that explains the registration process. 
POST AUCTION
The three stage process to auction means there is always a chance of a 'post-auction' purchase. Post Auction will arise if the property has not sold prior to or on auction day. If none of the submitted offers or bids meet the sellers reserve price, the seller has a couple of options. The Seller can either competitively price the property on review of buyer feedback throughout the campaign, or extend the auction date. These options will arise depending upon a number of factors, including the sellers' circumstance and level of buyer interest.
Keep in mind although it may be your strategy to hold off until after auction day, this could leave you disappointed. Often post auction will mean a lot more competition for buyers. 
The best strategy is to make your interest known early.